AtikTeam Meet, secure web conferencing for enterprises
AtikTeam offers a new web conferencing functionality that is secure, integrated into your application, and usable today no installation required.
This new module was deployed in April 2020, the objective is to provide our users with a fast, simple and secure way to organize an online conference.
Organize an online conference
To start a conference from your AtikTeam application, click on the Meet link at the top of your screen AtikTeam.

A new tab opens on your conference room. You will be prompted to allow access to the microphone and camera. Note that it is entirely possible to allow only the microphone for a audio conference.
The following page is presented to you (the zone annotations in green have been added).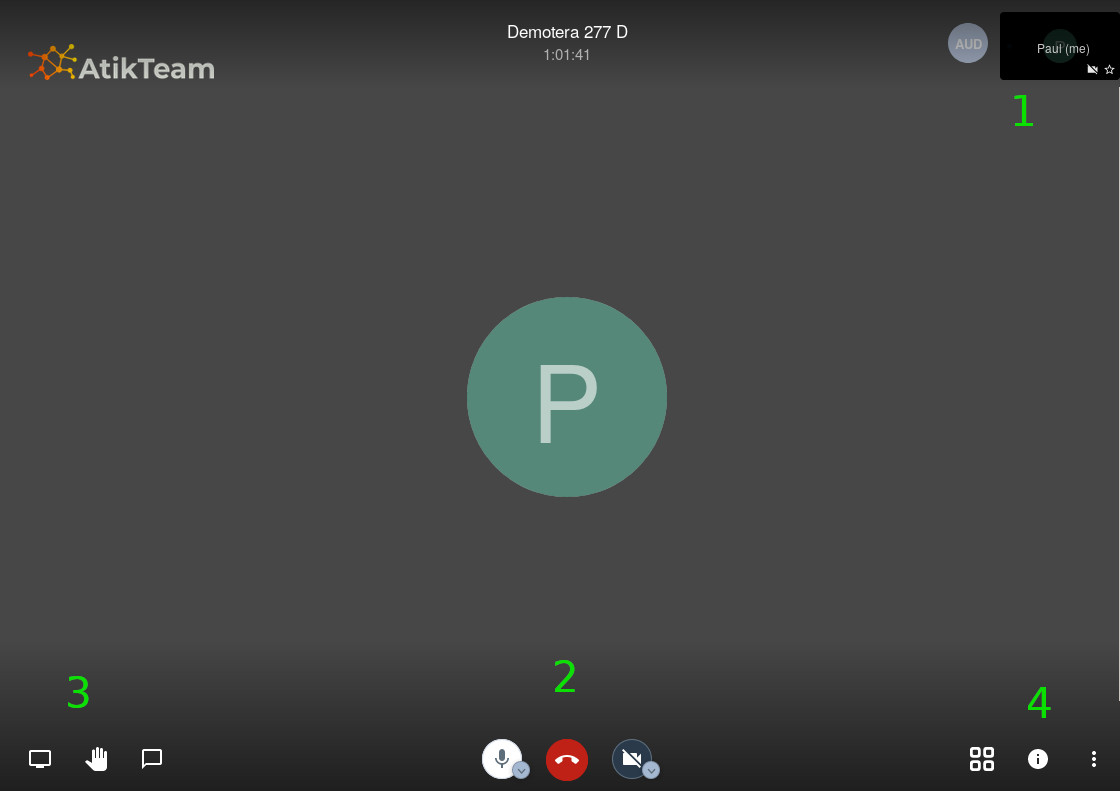 zone 1: enter your participant name
zone 2: you can mute / activate your microphone and your webcam
zone 3: teleconference toolbox

screen sharing - this function shares your screen with other participants
raised hand - request to speak
bubble - open the written exchange area

zone 4: conference settings

mosaic - display organization
i - information and link to share to invite an external participant
⋮ - parameters and additional functions
Access link and security
You can invite a external person who does not have a AtikTeam account by providing the access link.
This access link is automatically generated. For security reasons, this link to your conference room is ephemeral, it is regularly renewed.
AtikTeam Meet is based on secure and proven technologies. Audio streams and video are automatically encrypted between your devices and our waiters.
Mobile app
You can access AtikTeam Meet from your mobile, by installing the free "Jitsi Meet" application. From this application, go to the settings to configure the server conference on the address https://meet.atikteam.com. To join a conference, use the room name provided by your application AtikTeam, for example "my-business.2b4f". Welcome, you are online.
Limitations and developments
This module was deployed very quickly to respond to needs of our users in the context of containment. It is possible problems arise, thank you in advance to let us know.
Furthermore, in this first phase the teleconference module offers only one room per customer. As soon as possible, we will extend these capabilities to provide multiple conference rooms for each customer.
Technologies used and performance
AtikTeam Meet integrates the Jitsi solution, on our dedicated servers. These servers are located in the Paris area, which is why performances will be optimal in the geographic area of ​​metropolitan France.
Spread the word
Are you satisfied with AtikTeam? Share the love, spread the word, let your network know.