File sharing
The file sharing is a space designed to easily upload files, along with a description and information to quickly find your documents. This can be either documents from external sources or produced by your team. The versions history of these documents is kept to facilitate monitoring, and a mechanism is provided to ensure that a only one person at a time modifies a file.
You access the files shared by the Files tab of your project.
View shared files
The organization of the files is based entirely on the Tags. Using this principle, you can attach as many keywords you want to your document without having to make a tedious directories tree. To find documents, you can scope the listing of files with a specific selection of tags using the filter available on the right of the page. You can sort the files list according to different criteria by clicking on the headers.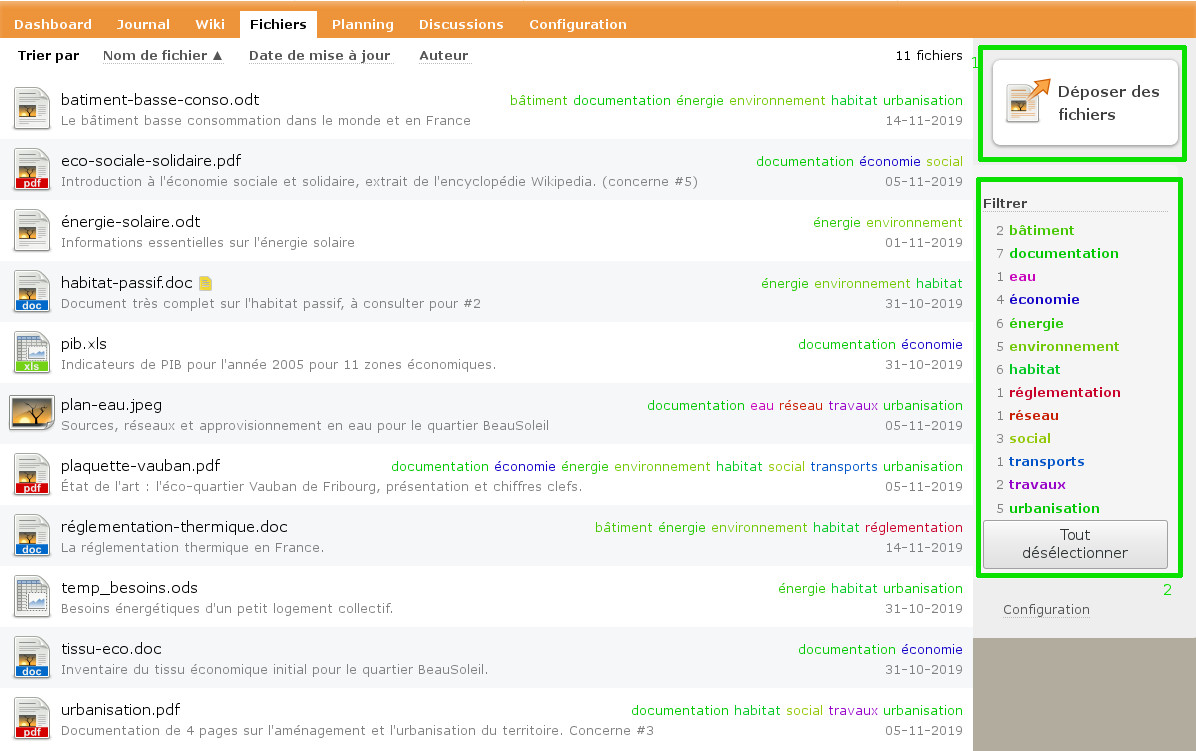 [zone 1]: add a new file
[zone 2]: filter the display of files by tags
By clicking on a file name, you open its page where you can read its description, download it, modify it or generate a wiki link to this file.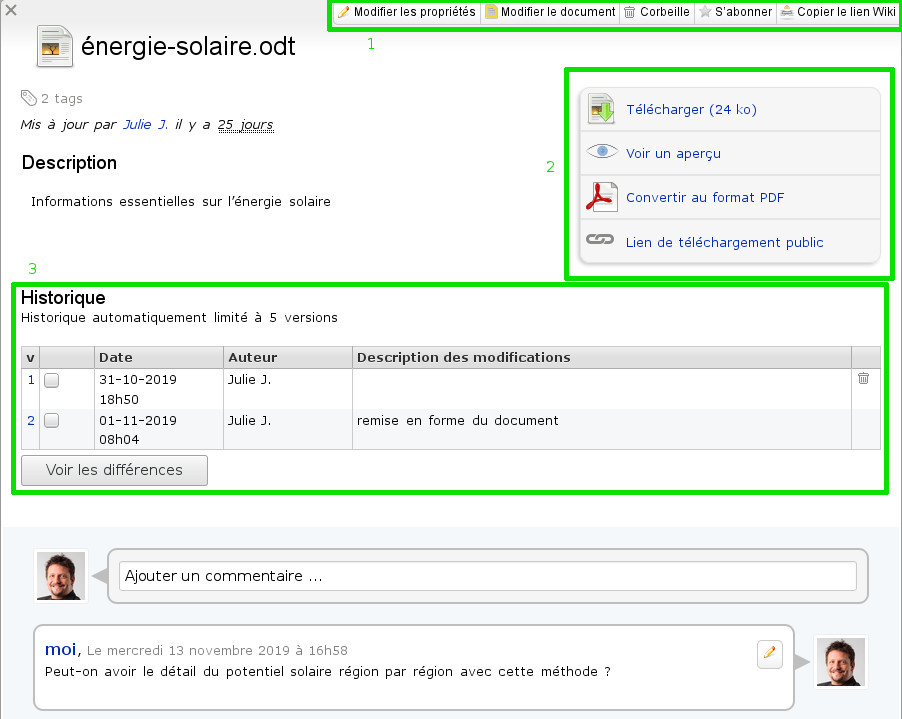 [zone 1]: file toolbar, modify properties, modify the file itself, trash it, subscribe to events, or copy the wiki link to link this file elsewhere
[zone 2]: download the file, view it online, convert to pdf, or get a secure download link to share by email.
[zone 3]: see previous versions of this file
Add a file
From the list of files in the shared space, use the button "Add files", then select a file on your computer, enter a description and a set of tags. Tags are essential because they constitute the classification system of the shared files repository, you must use them. Refer to tags documentation for more information.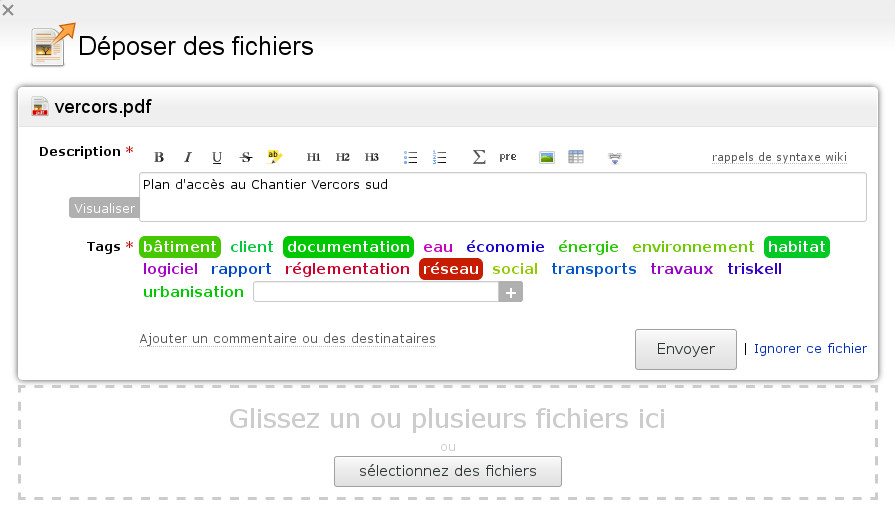 Previous versions of the file will be saved, providing a better guarantee of security and a good follow-up of changes. In order to avoid using too much space, you can let the app automatically delete the oldest versions of a file, only to keep the most recent ones, in limited number.
You can change the number of versions kept for a file, after sending it online. To do this, open the file page, click on "edit properties". Then, in the section "History", specify this limit, which must be an positive number. To disable automatic deletion of old versions, choose '0': this will keep all versions.
Edit a file
You can easily edit a shared file. If you want to make sure that no coworder makes changes at the same time as you, a system will allow you to get exclusive editing rights to do your changes for a period of time. To begin, click on the button "modify the document". Enter a short description of the modifications you wish to achieve, and possibly an indicative date of release. Remember to make your changes based on the most up-to-date version of the file, so that your do not overwrite involuntarily the work of one of your collaborators. You can then edit on your computer the file with your usual tools. When you're done, go to the page of the document to send your updated file, accompanied by a small description of changes made, to help your coworkers understand your changes.
If you change your mind, you can abandon the current procedure by clicking on the button provided for this purpose. Doing so, you will allow another collaborator to edit the document.
Share a file out of AtikTeam
You can share a file with people who are not members of your project with the Public link feature. To do this, go to the page of a file, and click on the "Public Download Link" button. You can choose a validity time for the link, then you must copy it (right click → copy or Control-C). Paste this secure link into an email and send it to your coworkers, they will simply click to download the file.
Remove a file
From the file page, simply click on the trash to remove a file. A project manager can delete it permanently, or restore it.